7.6         Restroom Standards
Any toilet room renovated or newly constructed in public space on the departures or arrivals level of the terminal or concourses shall comply with this section. Toilet rooms constructed in Airline operation areas and tenant space shall comply with the hardware, fixtures, urinals, etc. and other requirements as outlined in this section to the full extent possible.
7.6.1            Design and Layout
A.      Code Requirements: The design of the toilet room shall be in accordance with the most current edition of the applicable codes. The International Building and Plumbing Codes, the Americans with Disabilities Act (ADA), "Accessibility Guidelines for Buildings and Facilities (ADAAG)," and COMAR are applicable, and shall be used for the toilet room designs at BWI Marshall.
B.      Fixture Quantity Calculations: The consultant should consider the proposed services being offered in the immediate vicinity of the toilet room for the basis of fixture quantity calculations. Fixture quantities in renovated toilet rooms shall be in accordance with the current local, state and federal plumbing codes.
When Male and Female toilet rooms are designed immediately adjacent to each other, parity between fixtures shall be in accordance with current building codes and MDOT MAA requirements. Currently no requirement exists for parity. Women's toilet rooms shall be provided with as many fixtures as possible.
C.      Toilet Room Configuration: The configuration and geometry of toilet rooms will vary depending on the physical constraints in the existing facility for renovated or new toilet room construction. All Toilet rooms shall be designed in accordance with the following guidelines:
1.       The entry into high volume toilet rooms should be through a "maze" configuration. The maze should be configured to prevent direct line of sight into the toilet room from the entry corridor. The minimum functional clearance should permit two-way traffic through the maze and be considerate of travelers with baggage. The minimum allowable clear width is five (5) feet. The maze geometry should consider the traffic volumes expected for the toilet room.
2.       Family Assist, single-use, and tenant toilet rooms shall be equipped with a lockable door.
3.       The toilet room geometry should consider the daily maintenance required.
a.       Designs should permit half of the toilet room to be closed and cleaned while the other half remains open.
b.       A 3-foot chase is required behind all toilet walls for ease of maintenance. Accessible chases are not required behind lavatories and urinals, although a non-accessible "wet wall" may be required for plumbing line clearance and installation.
c.       Waste receptacles should be shown on the plans to verify adequate space is available.
D.      Janitorial Closets:
1.       A janitorial closet shall be located immediately adjacent to the toilet room(s). Only one closet is needed per pair of male/female restrooms. One closet is required adjacent to a single stall restroom.
2.       The janitorial closet shall be a minimum of 20 square feet with a minimum width of 3 feet in any direction.
3.       Closets shall be equipped with:
a.       Floor mounted mop basin constructed of terrazzo or molded stone.
b.       One fluorescent lighting fixture operated by a wall switch.
c.       Single gang electrical outlet installed in accordance with code (i.e. GFCI).
d.       A mop strip over the basin with multiple clips for hanging equipment.
e.       Threaded hose connection with an anti-siphon backflow preventer.
4.       Hot water heaters are NOT to be installed in the Janitorial Closets.
5.       Minimal storage is required in the janitorial closet. The consultant should verify the location of the nearest bulk storage location to verify if additional storage should be provided at the designed location.
6.       Access to the closet shall be from the common public corridor. Locks for the door should be in accordance with the requirements of this document.
7.       Waterproofing of floor shall be designed per Section 7.4.8.1 Waterproofing of Floors.
7.6.2 Facility Construction Requirements
A.      The facility construction requirements provided below should be followed for all public toilet rooms. Private toilet rooms that are maintained and used by tenant personnel only should follow the requirements for the hardware, fixtures, urinals, etc. and other requirements as outlined in this standard to the full extent possible.
B.      Floors: The floors can be either ceramic tile or terrazzo. The material shall match the existing corridor material. If the existing corridor does not consist of ceramic tile or terrazzo, then ceramic tile is preferred. The tile should be 12" x 12" with a non-slip finish. The grout should be non-absorbent and dark. The floors should be sloped to the extent possible to promote drainage. Floor drains are required for each bank of fixtures. The floor drains should be located in non-walking areas. The castings and grates for the drains should be stainless steel. Drains are to be installed per the current Plumbing Code. No check valve type drains are to be provided.
C.      Walls: The walls should be constructed of concrete masonry units (CMU) when costs and structural integrity allow. CMU walls offer greater durability and impact resistance, and better anchorage for fixtures, stalls and accessories. Other approved wall construction would consist of 20-gauge metal studs with 5/8" marine grade plywood and cement board. Use of the stud wall construction should be reviewed and approved by the MDOT MAA. The wall finish should be ceramic tile from floor to ceiling. The cove base should be extended as high as possible off the floor. The tile size should match the floor. The grout for the walls should be light colored. The grout lines of the wall shall match the grout lines of the floor.
D.      Crash Protection: Crash rails should be provided along the entrance hall walls. The material should be a high impact resistant extruded rigid plastic. The corners should have full-height corner guards from the floor to the ceiling. All guards should be mechanically fastened for ease of replacement when needed.
E.       Ceiling: The height of the ceiling should be nine feet (9'-0") above finish floor, unless constrained by existing conditions. The ceiling material is preferred to be gypsum wallboard with access panels. The access panels should be 16" x 16", minimum and key-lockable. The keys shall have best key core to match airport standards. The finish on the gypsum ceiling is to be painted semi-gloss enamel. If an excessive number of access panels are required, an acoustic tile ceiling is permitted. Tile ceilings should consist of 2' x 2' moisture resistant panels, aluminum pre-painted suspension grid and tiles with anti-micro bacterial coatings. A restroom with both gypsum and acoustic panel ceiling is acceptable.
F.       Doors: Doors are required for the Family Assist, single use, and tenant restrooms. The janitorial closets and the chase entry locations should also have doors. The doors should be hollow metal seamless with welded frames. The hardware should be in accordance with the details found in Chapter 7.7 Doors/Windows and restroom design cut sheets in Appendix 2F - Restroom Design Cut Sheets.
1.       Hinges should be stainless steel ball bearing type.
2.       Door Lever should be type required by ADAAG. The lever should of a type that returns to door face, to avoid possibility of catching fire hoses in an emergency situation.
3.       Locks should be keyed to MDOT MAA master key system. The locks should be equipped with Best Lock Company interchangeable cores.
4.       Closers should be delayed action closing type.
G.      Casework: At multi-user locations, the countertops should be solid surface material with drop-in self-rimming lavatories, integral back and end splashes. The countertops should be linear and set at a constant height. The height should be in accordance with current ADAAG requirements. Under lavatory guards should be provided at each lavatory to prevent the potential scalding to users due to hot piping. Refer to Finishes cut sheets in Appendix 2F - Restroom Design Cut Sheets.
H.      Partitions: Stalls are required at multi-user toilet rooms with water closets. Do not install urinals screens. The stall partition should be stainless steel with honeycomb cores. Additional reinforcement should be provided for grab bars, toilet paper holders and other accessories. The partitions should be floor supported unless otherwise approved.
Stall doors shall be attached to partitions with continuous stainless steel piano hinges - top and bottom pivot hinges are not acceptable.
The locking mechanism should be the latch type. No piston in hole type latch. Doors are required to have automatic returns. Typical stall doors should swing in towards the toilet. For the ADA toilets, the doors need to swing out. (Refer to Partitions cut sheets in Appendix 2F - Restroom Design Cut Sheets.
The wall-mounted side of the partition should be a continuous connection rather than a point-mounting bracket.
No coat hooks are to be placed on the partitions or the door. Locate hooks on rear wall. The coat hook attachment should be reinforced to the extent possible. Hooks should be located so the automatic flusher sensor is not blocked.
I.         Accessories: The toilet accessories apply to public toilet rooms only.
1.       Mirrors should be located above the vanity running the full length in multi-user toilet rooms. In single use or Family Assist restrooms, only a wall mounted individual mirror is required. Mirrors can be tilted if required by the ADAAG. A minimum of one independent full height mirror is required in each multi-use toilet room. All mirrors should be placed away from the main entrance and in a location that would permit reflective view into the room. Mirrors should be constructed of tempered glass.
2.       Soap dispensers should be liquid soap dispensing type. They are required to be wall mounted with adhesive material. One dispenser is required between each sink. Coordinate with MDOT MAA Building maintenance for acceptable manufacturer per vendor contract.
3.       Paper towel dispensers shall be coordinated with MDOT MAA Building maintenance for acceptable manufacturer per vendor contract. Do not specify electric hand dryers.
4.       Toilet paper holders shall be coordinated with MDOT MAA Building maintenance for acceptable manufacturer per vendor contract. Provide one at each water closet.
5.       Waste receptacles are to be 32 gallon, round freestanding unit with large top opening and grey in color. Wastes receptacles should be located immediately adjacent to the towel dispensers and of sufficient quantities. Where possible, provide a recessed nook to permit the receptacles space without taking away any traffic floor area. Waste receptacles are to be located on the plan view of the restroom in the construction documents.
6.       Sanitary napkin disposal receptacles should be provided in each stall of the women's toilet room. Receptacles should be free standing and not attached to the partitions. Coordinate with MDOT MAA Building maintenance for acceptable manufacturer per vendor contract.
7.       Sanitary napkin dispensers should be located in the women's and Family Assist restrooms. Coordinate with MDOT MAA Building maintenance for acceptable manufacturer per vendor contract.
8.       Toilet seat cover dispensers are required in the toilet rooms. They are not required in each stall and should be wall-mounted type. The automatic toilet seat cover dispenser is not to be specified. Coordinate with MDOT MAA Building maintenance for acceptable manufacturer per vendor contract.
9.       Air Fresheners shall be located in all restrooms. A minimum of one should be provided for the Family Assist restroom. The location and number of fresheners in the multiple-user restrooms is at the discretion of the consultant. Coordinate with MDOT MAA Building maintenance for acceptable manufacturer per vendor contract.
10.   Grab bars are required in the ADA toilet stall. Grab bars should have slip resistant gripping surface.
11.   Handbag shelves are not to be provided in multiple-user toilet rooms.
12.   Baby changing stations and related countertops and sinks are to be provided in each male and female multi-use toilet room and Family Assist restroom. The changing table should be within 4 feet of the countertop and sink. Baby changing equipment shall be Koala Bear Care or approved equal. A sign is required within each multiple-user restroom indicating the location of the baby changing station.
J.        Signage: The toilet room signage should be in accordance with the terminal standards. Icons are to be used to designate male and female toilet rooms. Directional signs are required in public toilet room areas. Signs shall be installed at the toilet room entrance including blade-type signage. ADAAG compliant wall mounted signage is to be provided at each toilet room.
K.       Lighting: Lighting design and illumination levels should be in accordance with current lighting standards and codes. Lighting fixtures consistent with Chapter 12 Lighting, and should be 2 x 2 with parabolic lens and respective luminaire type. Alcove lighting above sinks and urinals shall have an egg-crate type parabolic diffuser. Flat translucent sheet diffusers are not acceptable.
L.       Ventilation: The ventilation should exceed published mechanical standards by ten percent. The toilet room should be designed to have lower pressure than the public corridor to prevent fumes from escaping.
M.    Acoustics: All toilet rooms should be sound proof. This is to be performed by constructing walls from the floor to roof deck/floor above.
N.      Fire Alarm and Emergency Lighting: All public rooms need to comply with current building codes for fire alarm notification and emergency lighting requirements.
O.      Plumbing Fixtures: The plumbing fixtures shall have the following requirements for all toilet rooms constructed. Refer to Fixtures cut sheets in Appendix 2F - Restroom Design Cut Sheets.
1.       Lavatories for Family Assist and single use restrooms are to be wall mounted with trim and controls. Lavatories for multi-use toilet rooms are to be countertop mounted drop-in self-rimming with trim and controls. All sinks are to be cast iron. The mixing valves should be located in the walls (not the ceiling). The maximum temperature setting should be in accordance with applicable code. Automatic presence sensors are required at each lavatory.
2.       Urinals are to be wall mounted with trim and controls on the flushometer. Wing-walls are required on the urinals. Automatic presence sensors are required at each urinal. The sensor shall be equipped with the ability to manual flush in the event the sensor is malfunctioning.
3.       Water closets are to be wall mounted with trim and controls. Automatic presence sensors are required at each water closet. Comply with current ADAAG requirements for accessible toilet stalls. The sensor shall be equipped with the ability to manual flush in the event the sensor is malfunctioning.
4.       Mop basins are to be floor mounted with trim, controls and plumbing accessories.
5.       Floor drains should be self-priming and properly flashed for leak prevention (pertains to Janitorial closet as well).
6.       General control requirements for all toilet rooms:
a.       All controls are to be automatic and hard wired.
b.       Limit the number of fixtures on a single transformer to reduce multiple fixture outages.
c.       Provide scald protection at all lavatories.
P.       Shower Compartments: Shower compartments are not to be placed in multi-use, Family Assist, or single-use public toilet rooms. When shower compartments are required, they shall meet the following standards (Refer to Fixtures cut sheets in Appendix 2F - Restroom Design Cut Sheets):
1.       Designed in accordance with current ADAAG requirements.
2.       The compartment should be a prefabricated solid surface material.
3.       Each compartment should have grab bars, soap dish or dispenser, a shower seat, and a heavy-duty curtain rod.
4.       The mixing valve should be in the wall.
5.       The showerhead should be slide type (up and down). Head is not to be placed on the back wall.
6.       A floor drain is to be installed in front of the shower when installing an ADA accessible shower stall.
Q.     Lockers: Lockers are not to be placed in multi-use, Family Assist, or single use public toilet rooms. The type, size, and material are at the discretion of the consultant. All lockers shall have removable legs with base filler (no concrete bases for ease of renovation). Attaching lockers to the wall or to the floor is to be approved by MDOT MAA. The lockers and locks will not be provided by MDOT MAA. ADAAG requirements must be maintained in locker areas.
R.      Sanitary Lines: All restroom fixtures should drain by gravity to the sanitary piping system. If existing conditions prohibit gravity flow then lift station/ejector pits are to be included in the design. Lift stations and ejector pits should be located outside the footprint of the building structure the restroom is within. In addition, secondary containment of the lift station and ejector pit should be considered to limit overflow into adjacent areas during system failure.
7.6.3            Adult Change Rooms
7.6.3.1            General
The Maryland Aviation Administration has recognized a need to provide restroom facilities with greater accommodation than required by current accessibility codes and guidelines. Current MDOT MAA practice has been to provide family assist restrooms offering privacy for families with young children and individuals with special needs. The purpose of this Standard is to expand on those provisions, space permitting, and exceed the minimum requirements included in ADA Accessibility Guidelines and ICC ANSI A117.1.
7.6.3.2            Entrance Door
Comply with Chapter 7.7.5 Adult Change Room Door requirements.
7.6.3.3            Changing Table
Refer to Photo 2 and Drawings at end of this Section. Provide a floor-supported changing table, sized for use by adults, which can support individuals weighing a minimum of 400 pounds (180 kilograms). Table surfaces must be easily cleanable using steam or power-spray equipment. Do not permanently attach table to wall or floor to permit cleaning of spills on and around wall and floor surfaces behind and under table. Design table with the following characteristics:
A.      Removable top.
B.      Adjustable leveling feet.
C.      Rounded edges and corners on open sides of table.
D.      Located against an inside corner of the room.
E.       Minimum 6-inch high back- and end-splash, integral with top. Loose splashes are not permitted.
F.       Medical examining table paper roller at end of table.
G.      Duplex convenience outlet (GFCI), and emergency call switch with pull cord within reach of individuals using changing table and assistant. Call switch is to signal the Consolidated Dispatch Center and illuminate a flexible response blue strobe signal light outside the Adult Change Room, above the entrance door.
Wood framing and panel products used in the design of the table are to be fire-retardant-treated. Refer to Volume 3, Section 2.2 General Fire Protection Design Information, regarding architectural woodwork fire protection requirements.
Metals, including fasteners, are to be corrosion-resistant or otherwise protected from corrosion, including the effects of cleaning chemicals. Fasteners securing removable top are to be tamper-resistant.
Grab Bars are to be installed along the full length and width of changing tables. Provide at least one intermediate support for grab bars installed along the length of changing tables. Comply with ICC ANSI A117.1 requirements for grab bars, except increase structural strength requirements to 400 pounds (1770 N). Peened grip for grab bars is optional.
Assistant's Chair: Subject to program requirements, provide area adjacent changing table (end opposite paper roll preferred) for one assistant's chair. Chair may also be used by nursing mothers in addition to those assisting individuals with decreased mobility. Chair must be easily cleanable, water-resistant, and capable of supporting a minimum weight of 300 pounds (135 kilograms). A fixed seating location is preferred. Optional features may include adjustable chair armrests and seat height, folding armrests and seat. Refer to Photo 1 at end of this Article for sample product available.
7.6.3.4            Changing Room Design
At a minimum, design Adult Change Rooms to comply with applicable requirements of ICC ANSI A117.1 Accessible and Usable Buildings and Facilities, and the Code of Maryland Regulations (COMAR). Consultants are encouraged to provide enhanced accommodation for these spaces, exceeding the minimum requirements contained in this Standard. For example, motorized wheelchairs, scooters, and wheelchairs and scooters with additional back and head support, often require greater floor space to maneuver and access plumbing fixtures. Additional space adjacent the water closet for assistant's use in aiding transfer may also be provided.
A.      Room Finishes: Select finishes that can be cleaned easily, are mold and mildew resistant, and contain antimicrobial agents, when available by product manufacturers. Avoid finishes that are easily stained. Waterproof floors in accordance with Chapter 7.4.8 Waterproofing. Grout joints of ceramic, porcelain, and quarry tile are to be sealed. If epoxy grout is used for tile, note that some types of epoxy grout cannot withstand certain cleaning methods that may be used, including steam-cleaning. Provide ceilings consisting of framed monolithic gypsum board, suspended gypsum board system, or suspended exposed grid system and gypsum panels. Comply with Chapter 7.6.2 Facility Construction Requirements.
B.      Water Closet: Wall-mounted type, conditions permitting.
C.      Lavatories: Wheel-chair type with lavatory guards.
D.      Vanities: Vanities are optional. If provided, ensure weight of an individual who may sit or stand on vanity can be supported.
E.       Toilet Accessories: Coordinate with the Office of Ground Transportation for toilet accessories provided by MDOT MAA vendor(s), which may include soap dispensers, paper towel cabinets, toilet tissue dispensers, and sanitary napkin disposals. In addition to typical restroom accessories, include the following:
1.       Diaper changing station for infants.
2.       At least one large wall-mounted trash receptacle (recessed or semi-recessed preferred) for disposable diapers.
3.       Wall-mounted hook(s) for diaper bags and coats.
4.       Room deodorizer.
5.       Full-height angle-framed mirror with tempered glass.
7.6.3.5            Changing Room Design Scope
At the discretion of the Office of Architecture, elements of accommodation included in the Adult Change Room may be increased or decreased, but in no case less than what is required by referenced codes and regulations.
7.6.3.6            References
A.      Assistance Chair: Pressalit Care www.pressalit.com.
B.      Changing Table Paper Holder: Ritter 95 Treatment Table Accessories, Midmark Corporation www.midmark.com.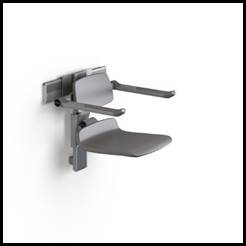 Photo 1: Assistance Chair
Chair, in this example, is attached to rail system, allowing horizontal adjustment. Height of seat and arms are adjustable and can be folded. Rail system is available in varying lengths.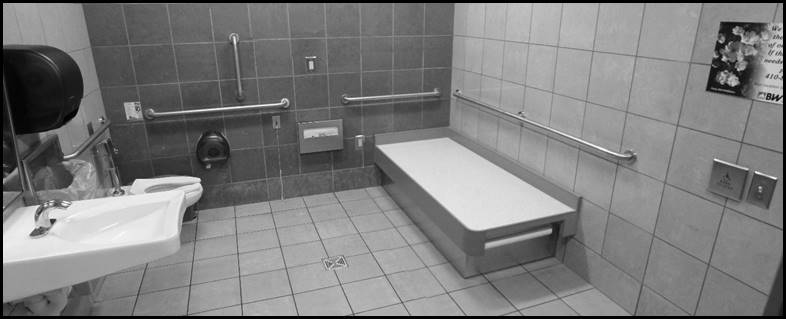 Photo 2: Changing Room
Changing table to right of view with examining table paper roll at end of table, housed within removable top. Duplex convenience outlet and emergency pull cord on wall at opposite end. Careful planning is required when locating plastic accessories supplied by vendors, to avoid encroaching upon required clearances.
Drawings: Changing Table
Locate table at inside corner of room. Design table as furniture, which can be moved for cleaning, and provide a removable top. Include grab bars mounted on wall along length and width of table. Extend room finishes behind and below table. Preferred location of Assistant's Chair in this layout is to left of plan, and within reach of convenience outlet.
Front Elevation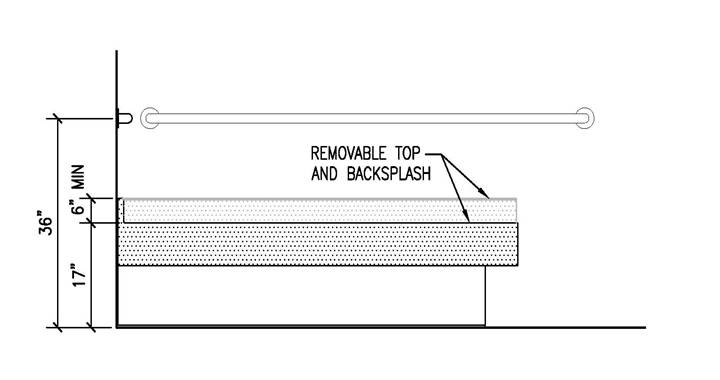 End Elevation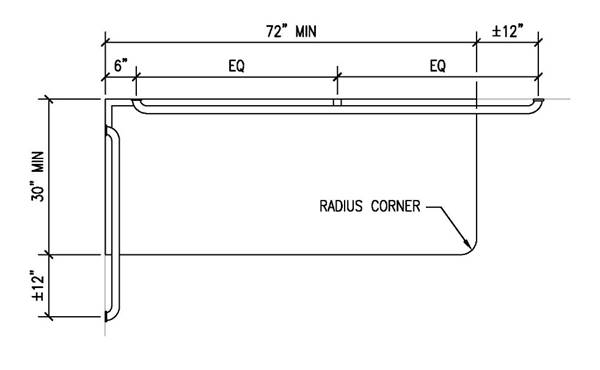 Plan
7.6.4            Restroom Exhibits and Standard Details
Standard exhibits and details to be utilized for restroom designs can be found in Appendix 2F - Restroom Design Cut Sheets.